Outpatient surgery and it's imperatives on pain management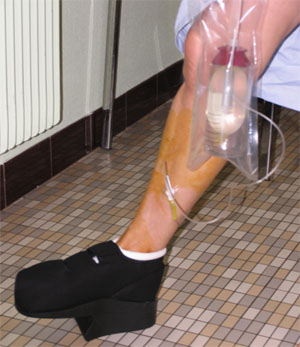 In this chapter, we want to emphasize the recent progress in the care of patients, and in particular outpatient procedures with a perfect pain management.

Surely, surgical techniques available today (minimally invasive procedures allowing to get rid of the use of drains, closing processes excluding the renewal of dressings in the postoperative stage, improvement of technical gestures and instruments available for the accomplishment of the procedure, etc.) helped support patients in outpatient procedures that yesterday were associated with a hospitalization for several days.

An essential element, especially for orthopedic surgery, which had the reputation of being a very algetic surgery, is the use of processes that now allows a perfect management of postoperative pain.
For other lower limb joints:
We used for several years very appropriate techniques for the surgery of "extremities" (foot and ankle surgery) consisting of, during the surgical procedure, stopping the activity of the acting nerves of the operated segment by long-acting anesthetics. This method had the advantage of avoiding certain side effects such as nausea or sensations of discomfort that some patients felt immediately after surgery due to the use of opiate analgesic. These blockages, unfortunately, had a short-term efficiency in time (6-12 hours).

Today we use a device that will extend this effect of postoperative total anesthesia with an efficiency of 3 to 5 days. The idea is to place in the fatty tissues surrounding the nerve responsible for the sensitivity of the operated articular segment, a very thin catheter (see pictures 1 and 2). The latter is connected to a supply of anesthetic stored in a pocket, whose walls have a positive pressure. This so-called "elastomeric " pump thus supplies, through constant and appropriate flow, the space around the nerves leading to a complete analgesia during the first postoperative days.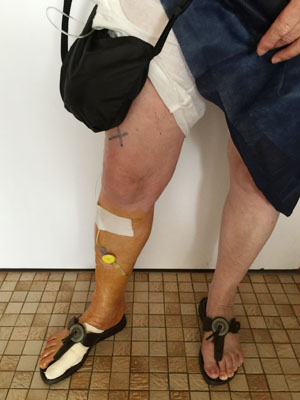 This device will be removed very simply, similarly to the removal of a single catheter, by the nurse at the patient's home as soon as the contents of the pump is gone.
This device results in a very significant reduction of the intake of conventional analgesics or anti-inflammatories. By its very effective action on pain, it contributes to the achievement of the immediate postoperative rehabilitation necessary to attain the best functional results, particularly for recovery of range of motion.
For other lower limb joints:
For all other procedures that we practice, particularly for total knee and hip replacements, we resort to prolonged anesthesia techniques performed during surgery, in the wound, by infiltrating the tissues with an anesthetic combined with other products in order to remove pain for several hours and facilitate the first awakening of the patient along with the weight bearing and resumption of joint mobility.